9 décembre 2013
1
09
/

12
/

décembre
/

2013
20:05
IDITAROD ROOKIES MEETING. English version is after the french version.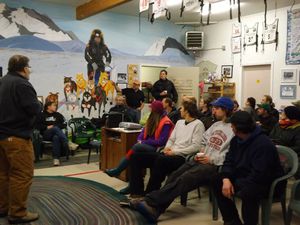 Iditarod rookie meeting, chez Vern Halter.
Je viens de passer 2 jours avec le comité de la course de l'Iditarod et tous les rookies (nouveaux coureurs).
Je suis impressionnée d'avoir rencontré ces icônes telles que Dee Dee Jonrowe, qui a couru l'Iditarod plus de 30 fois et qui, à 60 ans, pète le feu après avoir survécu à un cancer des seins et un grave accident de voiture.
Mark Nordmann, le juge et directeur de course. C'est tout un personnage qui conserve entièrement sa passion après tant d'années. C'est grâce à des gens comme lui ou Joan Potts, son bras droit que cet événement peut survivre. Ils  nous donnent des explications sur les règlements et sur toute la logistique de la course.
Dr. Stuart Nelson, le vétérinaire en chef qui va chapeauter pas loin de 50 vétérinaires bénévoles pendant la course. Il nous donne énormément de conseils. C'est grâce à lui et son équipe que les mushers prennent de plus en plus soin de leurs chiens.
Jan Bullock, la technicienne vétérinaire responsable pour les tests sanguins et les ECG nous donnent toutes les explications.
Nous avons reçu des informations sur tous les aspects de la course et je pense que c'est important que les coureurs réalisent tout ce qu'il y a autour. Un pilote de l'Iditarod air force,  la responsable des télécommunications, le coordinateur de la course, les responsables de la motoneige-balai  nous expliquent leur façon de fonctionner.  
Vern Halter, un musher chevronné qui nous reçoit chez lui et nous donne beaucoup d'explications.
En plus de Dee Dee Jonrowe, d'autres mushers sont venus partager leurs expériences : Aron Burmeister, Aly Zirkle,  Jack Berckowitz et Justin Savidis.
J'ai aussi beaucoup apprécié de faire la connaissance des rookies de manière plus approfondie que simplement au tirage des dossards.
Nous avons maintenant l'impression de faire partie de la grande famille de l'Iditarod.
Merci à tous !
I just come back from a 2 days meeting with the Iditarod Trail Committee and the 2014 rookies.
I am so impressed to have met these icons, as Dee Dee Jonrowe. She raced the Iditarod more than 30 times. She is still full of passion and energy. She survived at a breast cancer and an important car crash.
Mark Nordmann, the race director and race marshal. He is himself a great personage. After all this year, his passion is still total. He is making a so great job with his right arm, Joan Potts. All their works help for the survival of the race.  He gave us information about the rules and the logistic.
 Dr. Stuart Nelson, the head veterinary gave us many advices. About 50 veterinaries, all volunteers, will be on the race. Their works and their collaborations  are important. Now, the mushers take more and more care of their dogs.
Jan Bullock, the technician veterinary in charge for the blood test and the ECG gave us some explanations.
We received information about all aspects of the race. I think it is important that racers realise all that is behind their race. An Iditarod Air force pilot, the telecommunications director, The Iditarod trail sweep, the race coordinator  explained us how they  works.
Vern Halter received all of us at his kennel in Willow and gave us a lot of information.
Dee Dee Jonrowe as well as other mushers : Aaron Burmeister, Aly Zirkle, Jack Bercowitz and Justin Savidis,  came to share their experience.
I appreciated also to meet the other rookies. It is better than only at the banquet.
Now we have the feeling that we are a part of the Iditarod family!
Thank you!